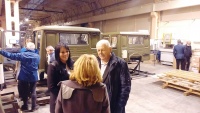 Business Center Club is visiting Starpol
23rd of October, 2015 in our faciity we organized meeting of the Świętokrzyskie Business Center Club. Edward Płusa welcomed the incoming guests - President of the Board and Magdalena Dziwosz, member of STARPOL Board. The presentation of the company and the hall of production of electrical wires took place. Then the guests went to the MAN Bus sp o. o. what was led by Tadeusz Olchowik, the deputy head of the plant.
The meeting ended with a tour of STARPOL metal production hall.