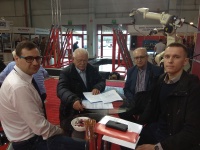 2019.03.28 Purchase contract on FD B6L welding robot Daihen
28.03.2019, during the STOM Kielce fair, Starpol signed a contract for the purchase of a six-axis OTC DAIHEN FD-B6L welding robot with a working radius of 2008 mm with a counter-parter, rotary positioner and other parts of the system. The integrator responsible for the implementation and commissioning is SAP-WELD Sp. z o.o. from Poznań, a company with many years of experience in the integration of automated and robotic welding applications for various industries in the production sector.
Initial acceptance of the position is planned for 14/15 week 2019. Assembly of the stand before Easter.
All to increase efficiency, ensure quality and repeatability of manufactured parts. We also implement Industry 4.0 program.