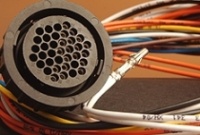 Wire Harnesses
Wire harnesses production
Our politics is a key challenge aimed at delivering high quality wire harnesses which meet the most stringent requirements of our clients, with the ultimate objective of decreasing of a harmful environmental impact.
Our team pursues to meet the objectives by implementing high quality standards, searching for new technologies for wire harnesses production and by investing in modern solutions. At the same time we take measures to improve our quality processes and internal procedures.
We obtain Komax machine park – that allows to organize the production process in the most efficient way, guarantees high repeatability and production reliability. Wire harnesses are produced on special assembly boards, tables and assembly-control tables dedicated to a particular type and customer. Accepted control standards guarantee high quality products for our customers.
Production process consists of:
- Wire cutting, stripping and terminals crimping
- Wires tinning
- Connecting the elements with soldering
- Connecting the elements/wires with ultrasonic welding technology
- Assemling wire harnesses in bands, corrugated tubes and in PVC braid
- Harnesses assembly according to client's documentation
- Clamping IDC connectors (rast connectors)
- hermetization of the wire by injection with PA glue
- Other solutions adapted to indivudual needs of the customer
Market needs require flexibility and diversity - which is why Starpol continuosly invest in a modern machine park. Our company owns a vast variety of aplicators which enable us to realise projects from the following sectors:
Household Appliances
Automotive
Ligthing
Agricultural Machines
Automatics
Other - whenever various wire connections are applicable

Short characteristcs of applied components:
Wires – all types of wires available; mainly silicon wires and single / multicore PVC wires. Used cross-section from 0,06 mm2. Main suppliers: EllettroBrescia Italy, NKT, Simech, Lapp Kabel, Belden.
Terminals – crimped in "'crimp to crimp" technology from 0,06 mm2 up to 10 mm2 or using hydraulic presses for cross-section from 16mm2 . Vast diversity of suppliers: Molex, Inarca, Tyco, JST, Escubedo, MTA, Deutsch, BOSH, Delphi, ERGOM, ERKO, Lumberg, GMG, Sumitomo, Harting and others.
Covers – variety of the components is based on the client's needs, main suppliers: Molex, Inarca, Tyco TE, JST, Escubedo, MTA, Deutsch, BOSH, Delphi, Lumberg, Stocko, Hirschman, Scame, Harting and others.