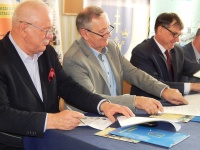 We co-create sponsorship class
The new sponsorship class of locksmiths is created, with learning in dual system of cutting machine operators. Pupils will have both, theoretical lessons in 3rd Vocational School in Starachowice and practical in Starpol II Ltd. company. we hope that they will become our employee in the future.
3rd of February, 2016 was created and signed Letter of intent by four enterprices (STARPOL, Perfopol, Odlewnie Polskie, Elruz) from Starachowice District and by SSE "Starachowice" S.A. representatives.
STARPOL reprezented Edward Płusa, owner and President of the Board.
According to the agreed schedule, 26 pupils will start learning of proffesion from September, 2016. Our company will train, teach and hire 8 young employees with hope of future high educated staff.